Kevin Rudd and Pippa Shuff from ICC attend special reception with the Queen at Buckingham Palace for the 2016 Business Awards.

July 14th, 2016

---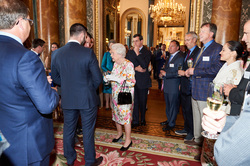 ICC Director Kevin Rudd, accompanied by Business Development Officer Pippa Shuff, attended a special reception hosted by HM Queen Elizabeth II at Buckingham Palace. The reception was attended by representatives from nearly 250 companies from across the United Kingdom that were awarded the prestigious Queen's award for Business Enterprise 2016.

Kevin Rudd said: "It was a wonderful occasion, one that I will cherish for many years to come. All the hard work and integrity of our specialists and staff have contributed to the company reaching this important milestone. I am proud to receive this Queen's Award in recognition of ICC's outstanding growth, business excellence and commercial success since the company began. We are honoured to represent British engineering and take our place among the list of prestigious award winning companies."
---

Independent Cement Consultants wins prestigious Queen's Award for Enterprise

April 21st, 2016

---
We are delighted to announce that Independent Cement Consultants has been awarded a Queen's award for Enterprise in the category of International Trade. The award represents the highest accolade for business success, and has been awarded to ICC in recognition of the company's approach to business with integrity and strong year on year growth in international markets.

Partner and Director Kevin Rudd will attend a presentation award, along with over 100 other award winning companies at Buckingham Palace on July 14th 2016.

---
Kevin Rudd said: 'It is a privilege to have the cream of British Specialist Consultants and Engineers on board with us at ICC. This award is recognition of our endeavours to provide consulting services to the cement and other heavy industries of the very highest standards, while promoting the best of British engineering and values overseas. On behalf of all of our staff and specialists, and for me personally, as the fourth generation of my family working in British heavy industry, I am very proud to receive this award and take our place alongside other accomplished UK companies that have also won this award.'
In addition;
Liza Shuff, Partner and Commercial Director added: 'We are very proud and honoured to receive this very prestigious business award. We are especially thankful to our staff, associates, clients and technical collaborators for their loyal support and hard work that have contributed to the growth and ongoing success of the company. Riding high on the success of winning this award we aim to continue developing further our relationships with existing clients and partners in the UK and overseas, whilst pushing ahead to expand our international presence.'
As a team at ICC, we are proud to work in the UK and international markets and add value to clients, through our in-depth knowledge, expertise and experience within the cement and heavy industry, while always keeping at the core of the company our British values: mutual respect, fair play and integrity.
For more information about the Queen's Awards, please visit:
http://queensawardsmagazine.com/
---